2K membrane for customer iuvas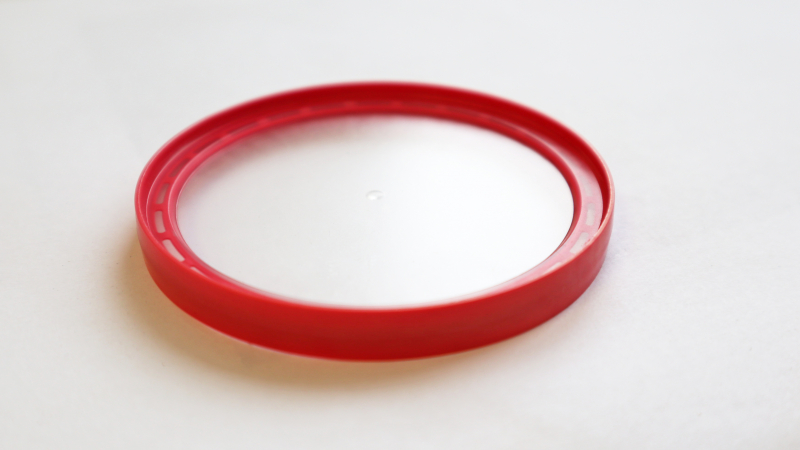 0,1 mm-thick membrane from 1-Shore silicone
RICO employs reliable production process for 2K membrane
A cup which you can drink from without having to tip. And a silicone membrane that pushes up the liquid. This was the starting point for a development and manufacturing project that two medical technology students put forward to RICO. The product posed a particular challenge: the membrane had to be made from 1-Shore silicone and have a thickness of just 0.1mm.
sippa home, a product from Munich-based company iuvas, is a cup which helps people with limited mobility, swallowing disorders or dementia to drink more easily by removing the need to tip their cup. The key component of the invention is a highly elastic membrane that prevents the level of the liquid from falling. This gives the user the impression that they are always drinking from a full cup. iuvas chose Austrian injection molding specialist and mold maker RICO Elastomere Projecting GmbH to manufacture the membrane.
From 1K to 2K: modifying the prototype
RICO's customer iuvas already had an initial silicone prototype of the membrane. However, tests carried out by the Austrian injection molding experts showed that the part's technical viability could not be guaranteed due to its current geometry and material choice. This was overcome by developing an alternative two-component solution made from mechanically-bonded silicone and thermoplastic. The project team then validated the injection molding process by running several test series using a test mold. "Because the membrane is so thin, we couldn't rely on simulations – it wouldn't have made any sense given the thickness," explains RICO project manager Josef Sorger.
Challenging material
In parallel with the component modifications, material testing generated some important insights. Even for RICO – a specialist with 25 years of injection molding experience – processing a 1-Shore material was uncharted territory. The selected food-grade silicone had a water-like consistency which made processing it extremely complex. "It is a very unique type of silicone with characteristics which resemble water more closely than other types. But once you know how the material works, you can process it flawlessly," confirms Josef Sorger.
Mold concept and surface treatment
Due to its low viscosity and Shore hardness, the material flowed like water in its unprocessed state. But after vulcanization it became very adhesive, making the demolding stage extremely tricky. The choice of material for the mold and the cavity surfaces was therefore crucial in avoiding the need for costly coatings. Such coatings tend to lose adhesion, which can entail subsequent maintenance and recoating. Their use also involves additional process and mold monitoring, which results in increased costs. This meant that selecting the right mold steel with the correct treatment and surface structure was RICO's number one priority. Which is why RICO called on the expertise of fellow RICO GROUP company and hardening technology specialists HTR.
RICO came up with a 2+2-cavity mold design for transfer molding – a tried and tested technique. The molded thermoplastic part is transferred within the mold using end-of-arm tooling technology, and prepared for silicone overmolding.
The combination of low-viscosity silicone, the large 62mm diameter and the extremely thin membrane thickness of 0.1mm posed a technical challenge. Thanks to the direct injection molding process using a valve gate nozzle system, RICO is able to manufacture the component with no waste and an economical cycle time, and ensure a reproducible, fully automated and stable supply of the component for its customer.
Temperature control essential
"Precise temperature control and a perfectly balanced cold runner system was an absolute must," comments Sorger. The exacting requirements that the mold and process had to satisfy demanded meticulous temperature control and a sophisticated vacuum system. Any fluctuation from a very low temperature of only a few degrees Celsius would have caused a change in the material's flow behavior and reactivity. Post curing also presented some technical hurdles. Several preliminary tests were necessary to evaluate the material behavior, primarily due to the properties of the special type of LSR.
End-to-end automation concept
In order to deliver ideal automation solutions for the specific product and customer requirements, RICO always thinks beyond its own in-house production. RICO tailored all automation steps and downstream processes to the customer's needs, which saved iuvas additional assembly and delivery preparation steps.
iuvas required two forms of packaging. The parts are fed directly into the post curing unit in a monitored process before being automatically packed, either individually or in boxes according to the customer's requirements. This ensures that the process is human-touch-free and the 2K membranes are manufactured in an extremely clean environment.
Satisfied customer
iuvas was impressed with how RICO approached the project. As David Fehrenbach, who is responsible for development and production at iuvas, confirms: "As the customer we were sold on RICO's production and business philosophy from our first visit. Reliable delivery, direct lines of communication and top quality confirmed our initial impressions."