Secondary operations and packaging
Finishing, testing, identification marking and packaging of finished silicone parts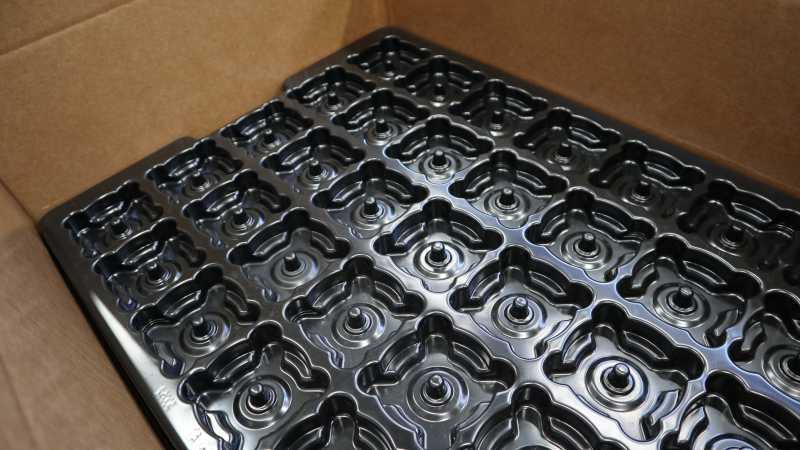 Besides development, prototyping, mold production and volume production of silicone and multi-component parts, we also offer a range of solutions for the final processing, testing, tracing and packaging of your finished parts.
Performance testing of finished parts
We carry out performance tests on finished parts to ensure that they have been produced to specifications. Using sensor and camera tests, as well as testing stations and devices, we ensure that the parts meet the defined inspection criteria, including:
Flow rates of liquids or gases, e.g. for valves
Tightness, e.g. for connectors and overmolded metal contacts
Connecting and mounting forces
Long-term adhesion
Component marking
Would you like to make your parts traceable? We can laser mark your finished components in line with your specifications as part of the production process.
For instance, we can add the part name, sequential numbering, your logo and a variety of other details.
Post curing, talcing and washing
It goes without saying that we also offer downstream production steps, such as post curing, talcing and washing of volume batches.
Slitting, punching, assembly, and preparation for delivery
On request, we can slit, punch and assemble your parts, and carry out additional delivery preparation steps in line with your requirements. We try to build up a picture of your downstream processes, in order to devise the best possible solution.
100% inspection of finished parts
At RICO, our motto is "don't inspect for quality, produce quality". However, if you have particularly stringent requirements (ppm rate of less than 1), we can implement additional quality assurance procedures. We can carry out special inspections of your finished parts as required, using a range of different methods.
Tactile inspection: testing using feeler gauges
Optical inspection: visual inspection, sensors, cameras, lasers, 3D scanning, CT scanning
Performance testing, e.g. for tightness, etc.
Safety checks
Smart packaging concepts
Sustainable and smart custom packaging concepts make it easier to process your products further down the line. We tailor the packaging to your specific needs, always with a focus on resource-saving, efficient and user-friendly solutions.
To give you a few examples:
Environmentally friendly reusable packaging
Packaging in pouches to maximize cleanliness
Individual sealed foil packs to be prepared for immediate delivery
Various box sizes and types, e.g. with or without handles
Trays, bulk packaging, individual labelling and package labelling, etc.
Traceability in accordance with customer requirements
If you're interested,
contact us today.