Insert overmolding
We can overmold your plastic or metal substrate with silicone
We have developed sophisticated inspection, conveyor and pre-treatment systems to prepare inserts for the molding process.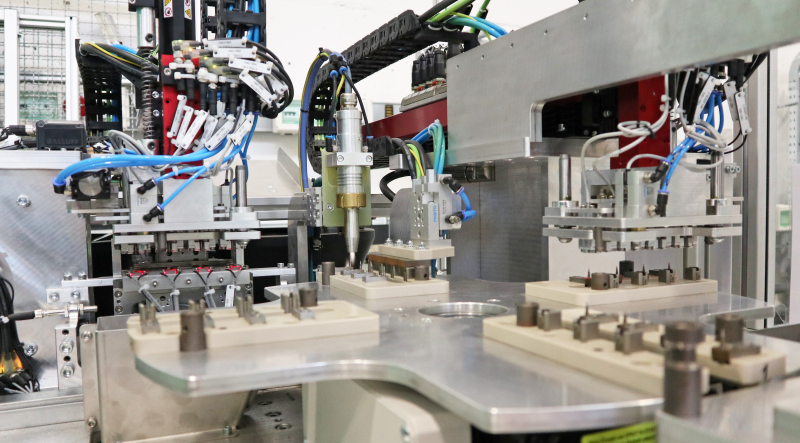 Inspection of inserts
to ensure a perfect finished part
Inspecting the inserts ensures uniformity and stability in the injection molding process, maximizing the quality of the finished part.
The system checks if the inserts are in the machine and correctly positioned. This procedure also prevents damage to the mold caused by errors such as the introduction of duplicate inserts.
We use both optical and tactile inspection processes.
Optical inspection procedures
Inspection using sensors, cameras, lasers, infrared or 3D scanning
Quick and can be flexibly deployed.
As these methods do not exert any force on the insert, they do not cause any deformation or damage.
These approaches can only check visible features, and they are only suitable for inserts with clean edges.
Tactile inspection procedures
Measuring using a feeler gauge
Hidden elements such as indentations and inner contours can be measured
Feeding, conveying and supply of inserts to the mold
Reproducibility and consistent part quality
After checking, the inserts are automatically fed into the injection molding stage of the process and precisely positioned by the conveying systems. Our systems use vibration, linear, and bunker-feed conveyors as well as belt feeds. The correct positioning of the inserts is essential for perfect reproducibility and consistency of quality within the specified timeframe for the process.
When the inserts are correctly aligned, they are accepted by the feeding system and prepared for overmolding. They are then precisely positioned by the handling technology and inside the mold. The inserts are supplied to the mold within the necessary timeframe.
A specially designed concept for the project featuring standardized assembly units minimizes technical risk.
Surface activation, cleaning and pre-warming
Surface activation and cleaning
Achieving good, consistent chemical bonding between the silicone and the insert or substrate requires surface activation and cleaning. We activate the surface of the insert or substrate before the injection-molding stage using processes such as plasma treatment.
Pre-warming
Pre-warming affects the centering and the transfer of energy into the insert, as well as helping to reduce cycle times. The characteristics of the insert, such as the material it is made of and its geometry, determine the pre-warming method we use.
Our developers have a wealth of materials expertise. You can find out more in the Product development section of our website.
If you're interested,
contact us today.