RICO Group wird Teil von Semperit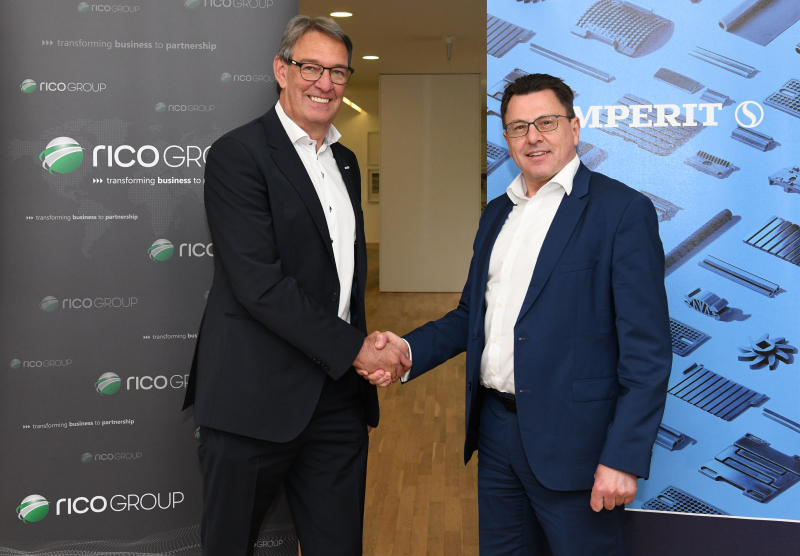 RICO Group to join Semperit
The acquisition for the sale of RICO Group to Semperit was signed on 17 April 2023 by the whole Semperit Board and Owners of the RICO Group. Semperit welcomes warmly RICO's highly qualified employees to the Group.
The past 29 years have been years of development and the implementation of many interesting projects. It was always important for the three owners Alfred Griesbaum, Gerhard Kornfelder and Johannes Grabner to look into the future and to get the best for the employees and customers. From the owners' point of view, the current size of the company and the planned growth strategy can therefore only be further developed with a professional partner. After long deliberations and careful checks and balances, they made the decision for this partner. RICO Group with its four subsidiaries was sold today to the Austrian Semperit AG.
Even if it comes as a surprise to some, the owners have been thinking about this for quite some time and have been dealing with a regulated and planned succession of the company. After in-depth discussions, they have come to the conclusion that in Semperit they have found a new owner who is a very good fit for the RICO Group and will act as a long-term partner. The three owners will remain at Semperit's disposal in an advisory capacity for a certain period of time in order to ensure a smooth transition.
As a rubber and elastomer specialist, Semperit intends to use the acquisition of RICO Group to take advantage of growth opportunities and actively address trends in the fields of health, life sciences, household & sanitary, electrification and mobility. In doing so, the new owner will benefit from Simtec's expertise.
Alfred Griesbaum, one of the three owners and founders of Rico Group, comments on the sale: "Semperit is our guarantee for continuity and growth, because Semperit is a company that understands our business, appreciates our Upper Austrian roots and can make three out of one plus one. With this promising perspective, handing over to Semperit was easy for us as founders."
About Semperit
The publicly listed company Semperit AG Holding is an internationally oriented group that develops and produces polymer products for the industrial and medical sectors, selling them in over 100 countries around the world: hydraulic and industrial hoses, conveyor belts, escalator handrails, construction profiles, cable car rings, products for railway superstructures, and examination and surgical gloves. Founded in 1824, this long-standing Austrian company has its headquarters in Vienna, Austria. The Semperit Group employs around 6,500 people worldwide in its continued and discontinued operations, including some 3,100 in Asia and approximately 900 in Austria (Vienna and production site Wimpassing, Lower Austria). The Group has 16 manufacturing facilities worldwide and numerous sales offices in Europe, Asia, Australia, and America. In the 2022 financial year, the Group generated revenue of EUR 779.8 million and an EBITDA of EUR 100.5 million in continued operations.