Green power refueling at the company parking lot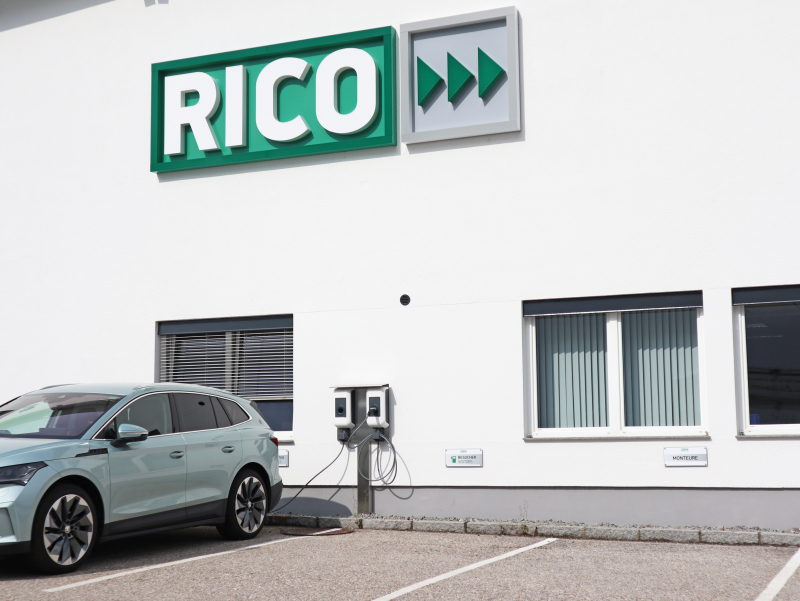 E-mobility
Charging electric vehicles in an uncomplicated way
In the parking lot of RICO Elastomere Projecting GmbH in Thalheim, electric vehicles can be refueled quickly and easily at the new charging station.
The RICO company is committed to expanding Austria's e-charging network and offers employees and visitors accessible charging stations in the company parking lot. "As a company, it is our task to think in a future-oriented way," says Managing Director Dr. Markus Nuspl. "The goal is to make our vehicle fleet more environmentally friendly. That's why we started by laying the groundwork and investing in the first e-charging stations at RICO," says Nuspl.
Some employees who drive company cars have already switched to an e-model and can charge it at the company parking lot during the day. Visitors can also charge on site free of charge.
Environmental protection program
"The e-charging stations are a measure within the scope of our environmental program," explains Nuspl. RICO has been environmentally certified according to ISO standard 14001 since 2010 and pursues various concepts on the subject of sustainability. RICO mold and injection molding production generates no wastewater, runs without chemical pollution and produces hardly any emissions. The production concept has also always relied on resource-saving mold concepts that allow silicone parts to be produced with virtually no waste and very little material. Nuspl continues to look to the future: "Even in the wake of the EU's Green Deal, we will continue to work intensively on reducing our C02 footprint."