Award: Supplier of the year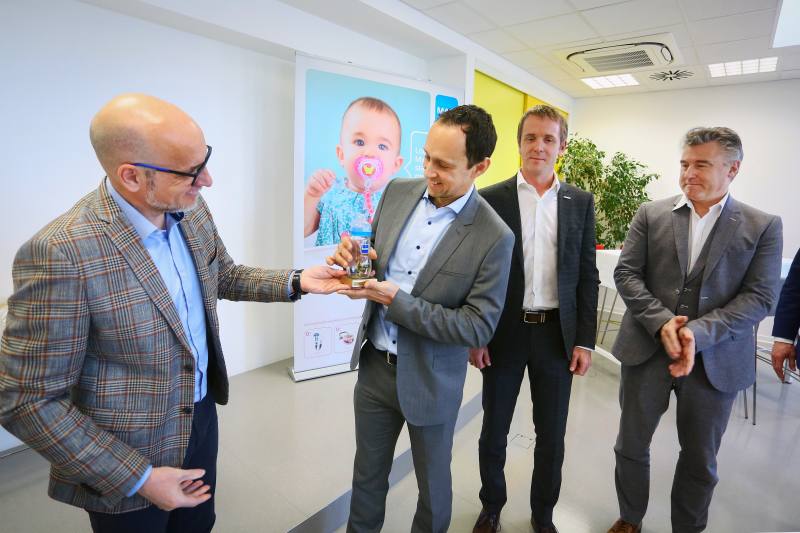 Supplier of the year
RICO picks up award from baby-product manufacturer MAM
It means a lot to a supplier when a customer presents it with an award. And Austrian injection molding and mold manufacturing specialist RICO is delighted to have been named 2019 supplier of the year by its customer MAM.
Baby-product manufacturer MAM has been synonymous with quality, innovation and design for four decades. Besides soothers and bottles, the company produces cups, oral care and teething products, cutlery and breastfeeding products. RICO has a 25-year track record in mold manufacturing and injection molding of high-quality single- and multi-component silicone parts. The collaboration between the two companies is no accident – use of silicone is becoming increasingly widespread in the baby-product sector. Although the partnership only dates back five years, the companies have completed a host of different projects. For instance, RICO produces silicone bottle teats and breastfeeding products for MAM.
Convincing arguments
In spring 2020, MAM staged its first-ever awards ceremony for its suppliers, and RICO won the title of 2019 supplier of the year in the category for major suppliers of assembly parts for baby products.
Harald Schermann, MAM's Head of Technical Product Management & Strategic Technical Purchasing, was involved in the ceremony and explained the reasons for presenting RICO with the accolade: "Outstanding technical expertise, professional handling, a proactive and solution-driven approach, and a strong culture of communication at all levels were the key reasons why RICO was named 2019 supplier of the year. All this and more has enabled RICO to become firmly established as an important strategic partner for MAM in just a short space of time."
RICO was delighted to pick up the award, as Managing Director Markus Nuspl commented: "It's a great honor for us to be the first company to receive this award from MAM. I would like to thank RICO's employees, because this prize is testimony to the tireless work they do day in and day out."
Evolving partnership
Further projects are in the pipeline and MAM would like to intensify the partnership. "We also see this award as a driving force for continuously developing our partnership," Schermann noted.