Änderung in der RICO-Geschäftsführung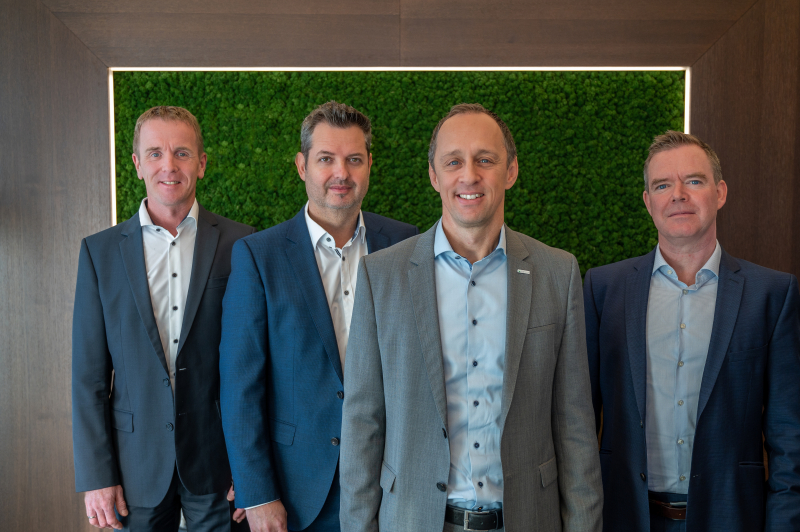 Neuer Head of Operations bei RICO
Dr. DI Thomas ist seit 1. November 2022 neuer Head of Operations und Teil der Geschäftsführung der RICO Elastomere Projecting GmbH in Thalheim bei Wels.
Thomas Pfatschbacher (rechts im Bild) löst damit DI Alexander Widmayr ab, der die Serienproduktion bei RICO mitaufgebaut hat und mehr als 11 Jahre verantwortete. DI Widmayr wird dem Unternehmen mit seiner über 30-jährigen Expertise und Erfahrung in der Silikonbranche erhalten bleiben und weiterhin eng mit Thomas Pfatschbacher zusammenarbeiten. In seiner neuen Funktion wird Dr. DI Pfatschbacher gemeinsam mit seinem Team die Produktion bei RICO sukzessive weiter entwickeln um die Position von RICO als führender Partner für höchstqualitative Kundenlösungen weiter zu stärken.
Zusätzlich wird er seitens Geschäftsleitung die Digitalisierungsaktivitäten bei RICO begleiten und mitgestalten. Die RICO-Geschäftsführung besteht nun aus (v.l.n.r.): Ing. Martin Rapperstorfer (Leitung Vertrieb), Roland Angerer (Technischer Leiter), Dr. Markus Nuspl (Geschäftsführer) und Dr. DI Thomas Pfatschbacher (Head of Operations).
"Ich freue mich sehr in diesem dynamischen, innovativen Unternehmen gemeinsam mit engagierten und hoch kompetenten Mitarbeitern und Kollegen einen wesentlichen Beitrag zur weiteren großartigen Entwicklung von RICO zu leisten. Fokus ist dabei klar die Erfüllung höchster Kundenanforderungen sowie die Realisierung einer effizienten, intelligenten und hoch modernen Produktion die Erfahrung und (Silikon) Know How mit Digitalisierung verbindet" beschreibt er seine Ansprüche.
Nach einem Studium der Technischen Physik in Linz promovierte Dr. DI Thomas Pfatschbacher begleitend zu seiner ersten Industrietätigkeit in Werkstoffwissenschaften an der Montan- universität Leoben. Der gebürtige Oberösterreicher weist über 25 Jahre Industrie-Erfahrung und eine breite Expertise in verschiedenen produktionsorientierten Bereichen im internationalen industriellen Umfeld vor. Hauptschwerpunkte waren dabei immer die Themen Innovation, Qualität, Optimierung von Produktion und Prozessen sowie der Aus- und Aufbau von Geschäftsfeldern. Zuletzt lag die Verantwortung und Expertise von Dr. DI Pfatschbacher im Bereich Digitale Transformation und Smart Production.